Axiomtek Gaming Releases the GMB142: The Mini-ITX SBC for High-Performance Gaming
2023-10-30
Axiomtek Gaming – a business group of Axiomtek, a leading designer and manufacturer of PC-based industrial products - is pleased to introduce the GMB142, a Mini-ITX motherboard tailored to deliver an exceptional high-end gaming experience in casinos, powered by the AMD Ryzen™ Embedded R2000 Series processors. The motherboard offers GLI-verified Trusted Boot and supports optional Slot Accounting System (SAS 6.02) protocol via the 9-bit serial port.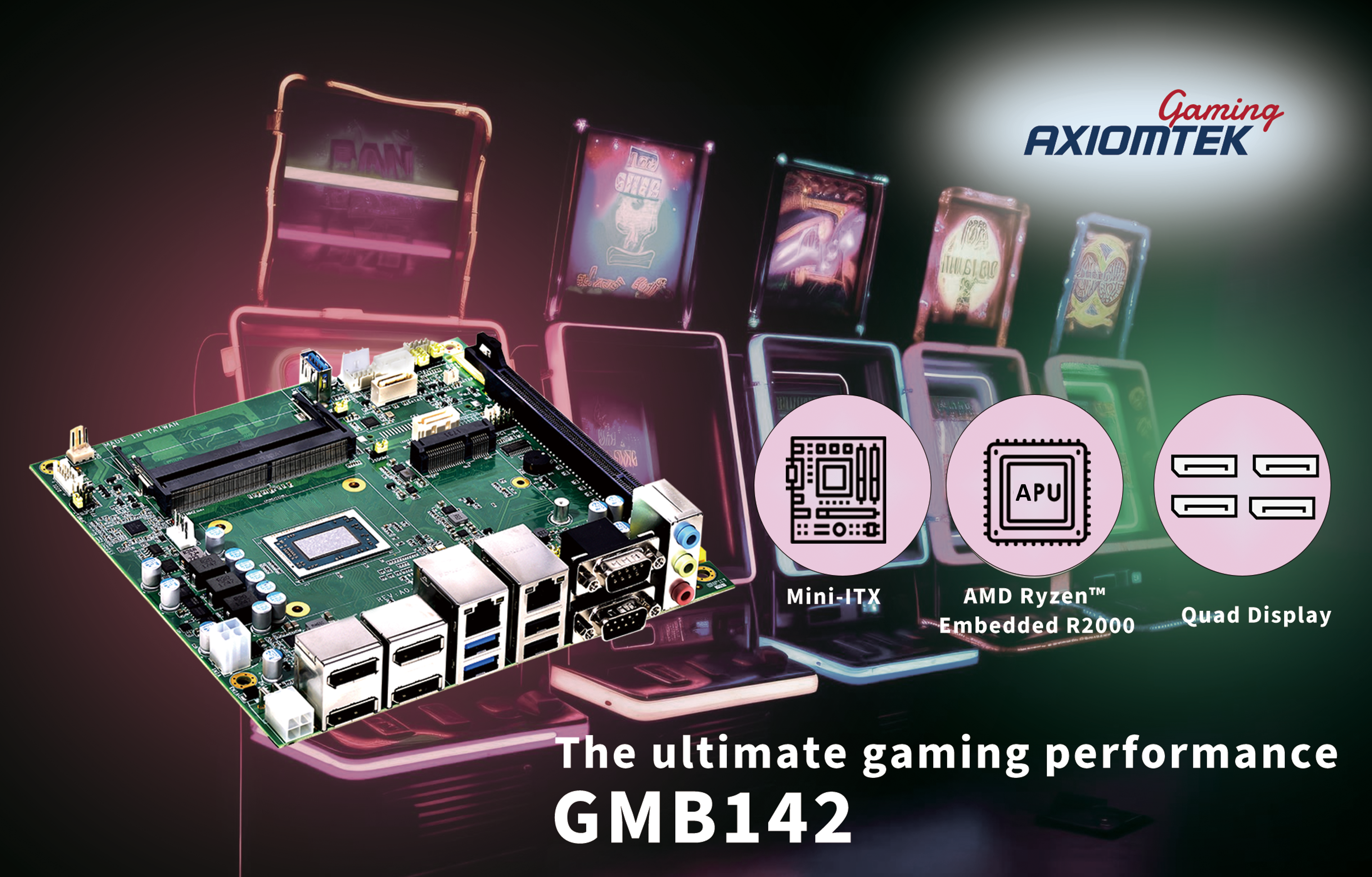 With its powerful CPU and support for up to 32GB of SO-DIMM DDR4 memory, the GMB142 surpasses expectations for next-generation gaming, ensuring uncompromising performance. In addition, this motherboard offers a comprehensive range of I/O for casino gaming, including four USB ports and two COM ports for seamless integration with peripherals. Additionally, the GMB142 has three internal USB and four COM ports supporting ccTalk/TTL, along with a PCIe Mini Card slot and PCIe golden finger for gaming I/O expansion, providing compatibility with cutting-edge games that captivate a wider audience of casino gaming providers. Notably, it features one PCIe x16 slot for discrete graphic cards and an expansion card for the application of casino machines, further enhancing its versatility. Also, the motherboard has two LAN ports.
One of the standout features of the GMB142 is its support for quad-display functionality, featuring four DP ports capable of delivering stunning resolutions of up to 3840 x 2160 @60Hz. This capability makes it ideal for 4K applications such as screen walls and surveillance control centers. While primarily designed for gaming, the GMB142's quad-display, exceptional performance, and competitive pricing make it an attractive solution for retail and surveillance applications, expanding its potential beyond the gaming realm. Furthermore, the GMB142 simplifies installation and deployment with its support for SATA 6Gb/s and is compatible with pin 7 power SATA DOM, streamlining wiring processes and accelerating deployment times.
"The GMB142 delivers a powerful and cost-effective CPU that can handle even the most sophisticated games, providing an immersive gaming experience that drives increased profitability," stated Ted Loo, product manager of the Gaming Division at Axiomtek Gaming. "While perfectly suited for gaming applications, we anticipate its versatility will find relevance in retail or surveillance environments, thanks to its quad-display capabilities."
The GMB142 is available for purchase now. For further product information or customization services, please visit our global website at gaming.axiomtek.com or contact sales representatives at gaming@axiomtek.com.tw.
Advanced Features of GMB142:
High-performance AMD Ryzen™ R2000 Series platform

GLI verified Trusted Boot

PCIe golden fi­nger expansion for gaming I/O module

Optional support 9-bit serial port for SAS 6.02

Lifetime long-term supply

Back