Mini-ITX Motherboard with AMD Ryzen™ Embedded V1000/R1000 Processor Targets Graphics-Driven Applications - GMB140
2021-11-08
Axiomtek Gaming – a business unit of Axiomtek, a leading designer and manufacturer of PC-based industrial products - is pleased to introduce the GMB140, its powerful Mini-ITX motherboard with the AMD Ryzen™ Embedded V1000/R1000 processor. With an effective procurement strategy plus a good relationship with AMD, Axiomtek can deliver the GMB140 with a short lead time to satisfy customers' needs - either in the gaming industry or in the retail or healthcare industry - at a time of a global material shortage.
The compact GMB140 provides powerful computing with the AMD "Zen" CPU and brilliant image processing performance with the AMD Radeon™ Vega Graphics to deliver stunning visual experiences. The GMB140 integrated with the high-performance CPU, GPU and extensive I/O offers superior computing performance and multi-display capability, making it suitable for graphics-driven embedded applications such as digital casino gaming machines, medical imaging, interactive kiosks, control rooms and video surveillance, and more.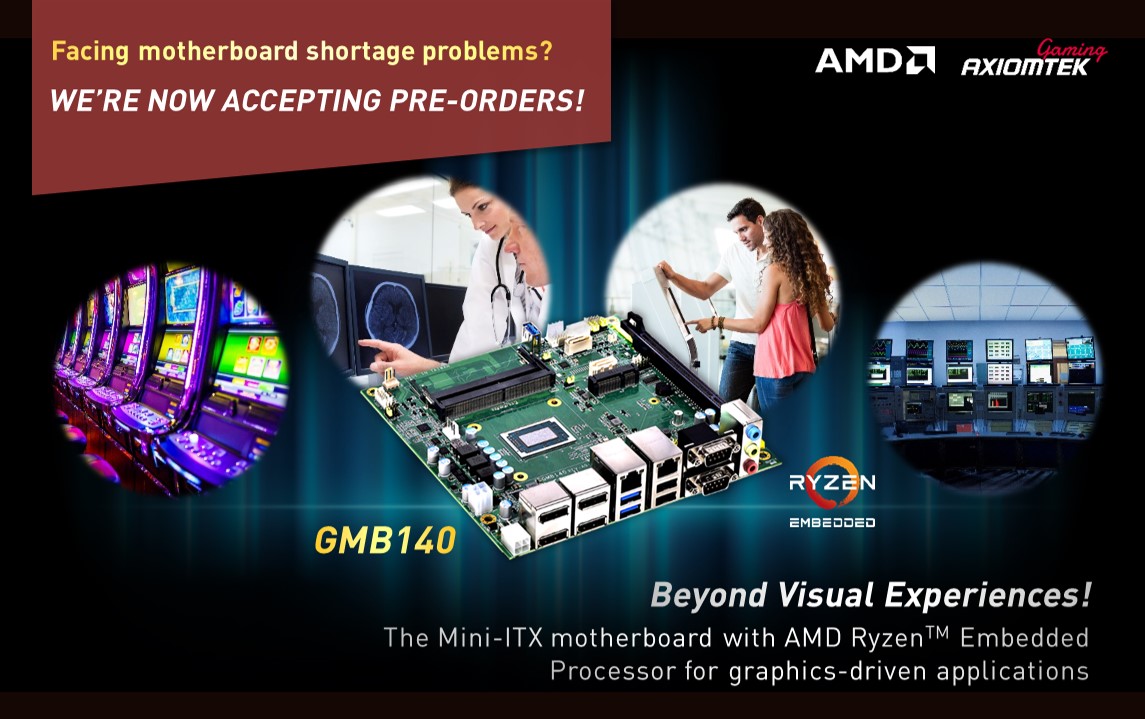 "To meet the ever-increasing demand for a multi-screen, high resolution, immersive player experience in casino slot machines, the GMB140 is built with the AMD Ryzen™ Embedded V1000/R1000 SoC with up to 3.6 TFLOPS compute performance. Featuring the AMD Radeon™ Vega Graphics, the GMB140 enables up to four independent displays in brilliant 4K resolution via DisplayPort++ for breakthrough digital casino gaming experiences," said Ted Loo, product manager of Gaming Division at Axiomtek. "Moreover, its Trusted Boot feature has been verified by Gaming Laboratories International (GLI) to ensure an embedded device starts safely and securely by preventing unauthorized software from taking control of the device at boot-up. TPM 2.0 hardware security function as well as hybrid encryption with RSA-2048 and AES256 are also available for critical information security." "We are now accepting pre-orders for a total of up to one thousand pieces of GMB140. And they are expected to be available in January 2022," he added.
The GMB140 comes with two DDR4 SO-DIMM sockets with a memory capacity of up to 32GB. For flexible gaming I/O module, it offers expandability with one PCIe x16 slot and one PCIe Mini Card slot. For rich I/O interfaces, it has seven USB ports, six RS-232 ports, HD audio 5.1-CH Line-out, two GbE LAN ports, two SATA 3.0 ports, and 8-bit GPIO. Furthermore, the GMB140 supports an optional 9-bit serial port for source code SAS 6.02 protocol. It also supports lifetime long-term supply.
The GMB140 is available for purchase now. For more product information or customization services, please visit our global website at http://gaming.axiomtek.com or contact one of our sales representatives at info@axiomtek.com.tw.
Advanced Features:
High-performance AMD platform
Supports up to 4 independent displays via DisplayPort++
     V1000 Series: 4 DisplayPort++
     R1000 Series: 3 DisplayPort++
GLI verified Trusted Boot
Extension PCIe I/F for gaming I/O module
Optional support 9-bit serial port for SAS 6.02
Lifetime long-term supply

Back